ITM Timber Merchants Thrives with IQ Retail as Their Software Partner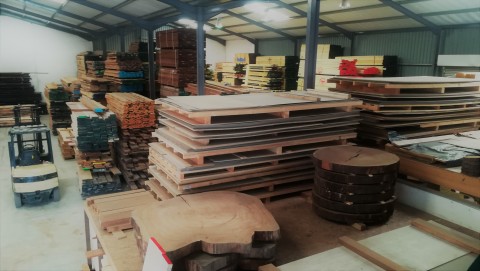 ITM Timber Merchants is a licensed company that imports timber products from all over the world. (North America, South America, Europe, Asia and Africa).  It was founded by Thomas Marktl in 1997 and in 2020 the business celebrates their 24th anniversary in Cape Town.
ITM Timber Merchants sources timber only from companies that adhere to strictly controlled forestry policies and are certified for the utmost business standards. Many of their suppliers are FSC certified, which means they adhere to these rules. ITM Timber Merchants take pride in knowing that they take the necessary care when it comes to large forests.
ITM Timber Merchants has been an IQ Retail customer since 2005 and have 14 different branches. Danielle van Schalkwyk, Accounts & Sales at ITM Timber Merchants, said "IQ Retail was recommended to us by the former owner of IQ and with its prestige reputation we decided to invest in their products." Danielle added, "We were not really in the market for a new system, but after implementing IQ Retail, we were very happy that we did indeed go with the system. It keeps up with the times helping us to work in a more automated way, it's very efficient and it has helped our business grow by making it easier for us to trade on a daily basis."
Danielle commented, "IQ Retail has impacted our success a huge deal. With the IQ Business system, the information is readily available, for example when clients phone us we can access a stock list within seconds and we can offer clients additional products that are in stock because we have everything at our finger tips – this has been such a helpful tool."
The IQ Business solution offers you everything you need to empower your business in the distributive and retail trades. IQ Business is a broad based financial and functional solution that utilises the latest business trends and best practices to hand those vital controls back to your business. This fully integrated solution gives you an edge in the market, with up-to-date forex revaluations in accounts payable and receivable, while the customised reporting functionality gives you continual access and control.
Danielle added, "One of our favorite features of IQ Retail will have to be the fact that the accounts functionality is easy to use and easy to understand, and the allocations feature is quite handy too. The debtor allocation with the highlights feature in IQ Business also works very well."
Gains & Benefits of IQ Business that ITM Timber Merchants enjoys:
Comprehensive stock reporting and customisation of standard reports
Drill down capability on any transaction
Reconcile stock quantity movement
Maintain multiple stock locations within a single company
Multiple stock ordering formulas per stock item
Integration of debtors, stock and general ledger
Customised reports and advanced filtering engine
Invoice directly from the sales order
Real time access to actual data and performance
Email statements and invoices to customers
Advanced security, integrity, and support
Integrated processing of:
            -> Invoices, Credit Notes,
            -> Goods Receiving, Returned Goods,
            -> Purchase Orders, Sales Orders, Job Cards
Some modules included in the IQ Business solution:
Accounts Receivable (Debtors)
Accounts Payable (Creditors)
Inventory (Stock)
Extended Debtors/Creditors/Ledger allocations
Point of Sale
Job cards
Quotes
Purchase Orders
Sales Orders
Bill of Quantities
Report Writer
Danielle said, "The biggest benefit that we enjoy with IQ Retail is the fact that we have customer support available to us directly from the IQ team themselves. The other day I phoned and they helped me set something up in the system - its easy access to information, and we can pull reports quickly. The IQ staff including the support team is very helpful and is of great assistance to us." Furthermore, Danielle said, "We do thousands of transactions per month, probably a hundred a day, we do a lot of payments, transactions, invoicing, cashbook posting, recons etc. so we make use of our IQ system to its full potential. IQ Retail is the complete package for any business."
About ITM Timber Merchants
Owner Thomas Marktl was born and raised in Austria. He realised, whilst playing amongst the   beautiful Austrian forests during his childhood, that his passion lies in the Timber. He studied to get a qualified degree in Timber Masters (Tischlermeister).
ITM Timber Merchants are proud to be agents for SunWood Stainer, Pollmeier, Tilly and EGGER. They were the first to introduce Pollmeier products, specifically Beech and BauBuche panels in Cape Town 13 years ago, which is used in furniture and kitchen manufacturing industries. Both products are very popular and in high demand. They were also the first to bring Stainer SunWood products to South Africa. They have a major stock list for EGGER boards from Austria which are leaders in the melamine industry.